Access the latest scientific content on the EAO Library!

Congress Scientific Reports
The EAO's annual meetings are unmissable events in the scientific calendar. Each year, cutting-edge research is presented to attendants coming from all over the world. To make this data available to a wider audience, the EAO is regularly producing Congress Scientific Reports.
Produced annually, the report provides an overview of all key sessions, illustrated with slides and containing selected references. Complimentary copies are circulated to EAO members and selected articles are available on the Online Library.
Session webcasts
Make sure you don't miss a moment of the EAO's annual scientific meetings. Recordings of key sessions are uploaded to the Online Library along with speakers' slides, so you can read all of the key data and research presented.
E-posters and abstracts
View all of the posters presented at the annual meetings as digital E-posters. You can also read and bookmark abstracts. The EAO Library's database lets you search by topic or author, comment on the content and ask questions, and even share content on social media or by email.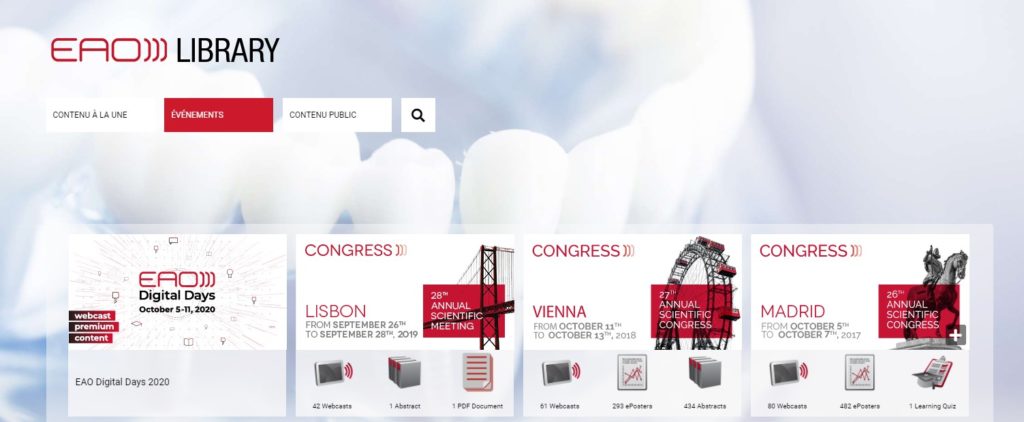 Become a member to access EAO Publications!
EAO's Official Publication on Prosthodontics

The International Journal of Prosthodontics is one of the EAO's official publications. It is published by Quintessence and edited by Prof Irena Sailer.
Its Impact Factor (2022) is 2.3.
Please note that yearly subscription to IJP is included in the EAO membership (exclusive online access for all EAO members)
The International Journal of Prosthodontics is published 6 times/ year.
A private online discussion group, with select feature articles and accompanying video summaries, is also very active and can be accessed here.
Become a member to access EAO Publications!
EAO's Official Publication on Implant Dentistry

Clinical Oral Implants Research is one of EAO's official journals. It is published by Wiley and edited by Prof Lisa Heitz-Mayfield.

Its Impact Factor (2022) is 4.3
Online access to COIR is included in your EAO Membership.
A monthly digest with direct access to the articles as well as regular Editor's picks are sent to members each month.
All abstracts accepted for presentation at the Annual Scientific Meeting are published in a supplement issue of COIR every year, so are the eagerly awaited conclusions of the EAO Consensus Conferences (every three years)
As a EAO member, access the COIR supplement
Become a member to access EAO Publications!
Keypoints for Clinical Practice
The EAO holds a Consensus Conference every three years, during which experts debate key areas of dental practice and reach a consensus. These conferences are fully funded by the Association to ensure that the findings are free from any commercial influence.
60 top scientists from around the world participated in the latest conference, held in Switzerland in February 2018 and discussed the following themes, which were broken down into several topics:
Drugs and diseases
Biological parameters
Reconstructions
Biomechanical aspects
A group of scientists already involved with preparing scientific reports on the EAO annual congresses were asked to participate as observers in the work sessions and summarise the discussions.
This summary has become the "Keypoints for clinical practice", and it was prepared by Lino Esteve, Alberto Salgado, Guillem Esteve, Luis Miguel Sánchez and Javier Amigó on behalf of the EAO.
A special online platform was created to share information in an easy and accessible way for all clinicians in the field of dentistry and to complement the official Proceedings of the 5th Consensus Conference published in COIR.

The document is also available in different languages:
Chinese
French
German
Italian
Japanese
Korean
Portuguese
Russian
Turkish
Become a member to access EAO Publications!
EAO Consensus Conferences – since 2006
What is it?
A consensus conference brings together experts in a particular field to discuss a range of pre-agreed subjects. Before the conference, a literature review is carried out to identify relevant scientific papers that relate to each subject. These are circulated to the participants so they can prepare for the conference. The subjects are then debated with the aim of reaching a consensus (agreement) on research evidence and best practice in that field.
Why are they necessary?
Dental practice is underpinned by evidence-based research into the safety and efficacy of different procedures. However, the quality or quantity of evidence available is often not optimal. Sometimes the sample size is too small, or the procedure is too new for long-term evidence of its efficacy to have been gathered. By bringing experts together to examine the evidence-base, a consensus can generally be reached, providing guidance for the wider scientific and dental community on which procedures are appropriate for a particular patient.
What makes the EAO's Consensus Conferences unique?
The EAO is unique in accepting no sponsorship whatsoever for its consensus conferences. The cost of organising the conferences is borne solely by the Association, and the only remit is to produce the best evidence-based guidance in an unbiased environment. As such, the papers generated by these conferences have particular value to the scientific community.
How are the participants selected?
For a consensus conference to be effective, the most relevant group of participants must be selected. The EAO Board of Directors first appoints a subcommittee responsible for identifying the main topics of current interest within the profession. A Scientific Committee is then in charge of selecting Chairs and Secretaries for each topic.
Although the EAO's consensus conferences are by invitation only, the conclusions they reach are disseminated through Clinical Oral Implants Research and at the EAO's annual scientific meetings.
How are the Consensus Conferences organised?
Consensus Conferences consist of a three-day meeting in a inspiring environment bringing together a number of osseointegration experts. The meetings are completely organised by the association without any external sponsoring for a strict science driven conference.
Consensus Conferences are organised in three of four working groups, each group being guided by a Chair and a Secretary. Rapporteurs prepare review papers as a basis for discussions in the groups. The group is expected to critically evaluate the manuscripts and modify them after acceptance by the group. Furthermore, each group produces a consensus report based on the information in the reviews and on the outcomes of the discussion. During plenary sessions, each group's consensus report is discussed and adjusted until there is a general consensus. Review papers are eventually published in the Clinical Oral Implants Research Journal.
Wiley journals
As of January 1st, 2018, journal subscriptions are handled and processed by Wiley. As an EAO member, you can benefit from greatly reduced fee. To do so, please follow the guidelines below:
Please place your order via the individual links below. You should select the correct fee for EAO members. For any assistance, please contact Ms Elena Rodriguez at erodriguez@wiley.com
Clinical Oral Implants Research (COIR)
Subscribe to Clinical Oral Implants Research for 2024 (12 issues, print only – 277€).
Journal of Oral Rehabilitation (JOOR)
Subscribe to the Journal of Oral Rehabilitation for 2024 (12 issues, print and online – 221€).
Oral Surgery (ORS)
Subscribe to Oral Surgery for 2024 (4 issues, print and online – 328€).
Journal of Clinical Periodontology (JCPE)
Subscribe to the Journal of Clinical Periodontology for 2024 (12 issues, print only – 953€).
Clinical Implant Dentistry and Related Research (CID)
Subscribe to Clinical Implant Dentistry and Related Research for 2024 (4 issues, online only – 145€).
Become a member to enjoy other Wiley publications at a reduced subscription fee
Keep the future of implantology
in your sights.
Live sessions, scientific programmes, battles of concepts…
Get the best of the EAO on our YouTube channel