Our Mission
One of our main missions is to provide non-commercial education.
The EAO has a long-standing commitment to dental education. One of its central goals is to help practitioners improve the standard of their daily practice.
The association provides a wide range of educational initiatives and opportunities throughout the year, and each are completely independent. This ensures that each course is free from industry influence, and promotes only the highest quality, evidence-based information.
More information coming soon on the upcoming Spring Break in 2023.
Surgical and prosthetic concepts: how to do it the EAO way?
Learn practically and theoretically how the EAO approaches current "hot topics" in implant dentistry.
3 days of hands-on training in a golf resort in Cascais, Portugal. 12 practical workshops to take your expertise to the next level & a unique opportunity to network with an international community.
EAO Master Diploma in Implant Dentistry
The ground-breaking EAO Diploma covers a comprehensive array of topics. On successful completion of the programme, successful participants will receive the EAO's prestigious Master Diploma in Implant Dentistry.
It combines online learning with live training sessions and mentoring on clinical cases submitted by students between modules.
Current cost: 22,990 EUR (excluding travel and accommodation costs)
EAO Certification-Exam in Implant-based Therapy
The EAO Certificate-Exam in Implant-based Therapy is the first Europe-wide standardised assessment of implant-based therapy. It provides a benchmark for assessing knowledge and skills.
Certification allows recipients to demonstrate to patients and regulatory authorities their competence to perfom basic implant treatments.
Application for 2023 will open in February
EAO Expert Clinician Courses
The Expert Clinician Courses series was launched in 2015. Since then, participants have benefited from a variety of exclusive courses held by internationally renowned clinicians. The courses run twice yearly and complement topics covered during the annual scientific meetings.
With the guidance of EAO expert clinicians, these courses translate cutting-edge research into accessible strategies which can be used in everyday practice. Look out for the upcoming Expert Clinician Courses!
Upcoming courses: Leuven, Madrid (November)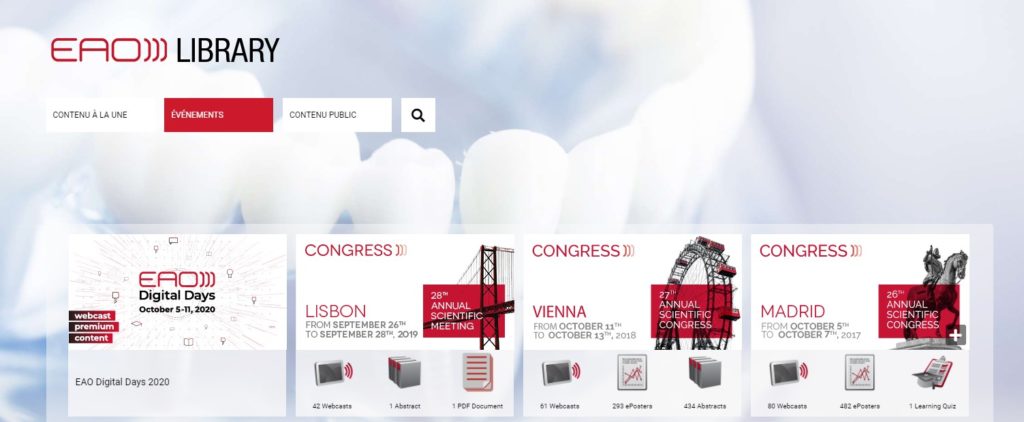 Library
Find all EAO scientific content on the Online Library. It offers a comprehensive and interactive online database where members can access articles, exclusive online resources and congress webcasts.
It puts a variety of articles and journals, as well as original scientific content at your fingertips. Use it to access a wealth of content and stay abreast of research developments and clinical guidelines.